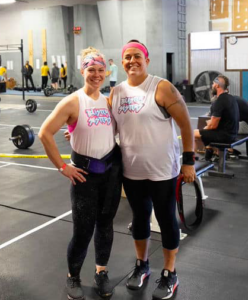 Photo by Colton Harris
51 Hoodie Order // TWO styles of hoodies// $50 each
Deadline to order Mon. Nov. 27th // Sign up sheet at the chalkboard!
Thanksgiving WOD// Thanksgiving Day Team WOD 8:00am-10:00am
// Click here to sign up you & your teammate!// Non-member Drop-In Rate $10 
Holiday Hours// Open Gym 9am- 11am Fri. Nov. 24 & Sat. Nov. 25
51 Christmas Party// Sat. Dec. 2nd from 6:00-8:00pm// Potluck Style// Sign up link will be up soon!

Barbell Club
(12 min)
2 Front Squats + 1 Push Press + 1 Push Jerk
*Work up to a heavy complex
Workout of the Day
7 min AMRAP
3 Power Cleans @ 185/ 125 (155/ 105)
5 Box Jumps @ 30″/ 24″ (24″/ 20″)
*Goal: 8+ rds
*Power Cleans: The weight selected should be heavier (around 70-75% of 1rm power clean) and should be approached in smooth and steady singles.
*Box Jumps: The height selected should be comfortable (not intimidating) and allow you to perform steady reps without much need to reset between reps.
Cool Down / Mobility
1 min foot smash w/ lacrosse ball (each side)
1 min Couch Stretch (each side)
1 min Seal Pose
"Some people want it to happen, some wish it would happen, others make it happen."
-Unknown