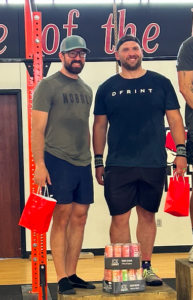 Congrats to Dustin & Joe on their 2nd place finish at the Bronco Beatdown! Great work guys!
Burpees for a Cause
-Sat. Jun 10 at 9:00am
-Please join us in raising funds for a local firefighter, Harrison Moseby.
-He's been fighting cancer & we need your help with funding his cancer treatment.
-For every $1 donated= 1 Burpee will be given to the coach of your choice
-ALL donations will go directly to his GoFundMe Page by clicking here 
-Read his full story on his link posted above
Murph on Memorial Day
-Monday, May 29 from 8:00-10:00am
-Click here to Sign up on Eventbrite for heats 8am, 9am, & 10am
-Drop-in fee for non-members $20
51 Kids Camp is Back!
Camp 1: May 30- June 2
Camp 2: June 26-29 
//Day camp from 9:30-11:30am
// Ages  6-13 yrs old
// $100 per kid/ $75 for sibling
// Email info@crossfit51.com to reserve your child's spot!
Arbonne// Give your body a nutritional reset! Next 30 Day Challenge begins June 5th! // Check out all of the 100% Vegan & Gluten-Free Supplements & Products by clicking here!  Contact Michelle directly with any questions!
1st Phorm Friday// Place your orders at the front desk by Fridays at the box! // Click here to view 1st Phorm's full product line to help you reach your fitness goals! 
Saturday Bootcamp// 8:00-9:00am
Saturday Open Gym// 9:00-11:00am

Barbell Club
EMOM for 5 min
2 Split Jerks (Light/ Moderate)
*Perform from the Squat Rack Athletes are using a lightweight today for all 5 sets.
*Focus on proper footwork while landing in a strong, stable position before recovering to the lockout.
*Absorb the bar down after rep 1, pausing, and resetting the body before going up for rep number 2.
Workout of the Day
EMOM for 15 min
(40 seconds work/ 20 seconds rest)
Min 1: Kettlebell Swings @55#/ 35# (35#/ 25#)
Min 2: Calories
Min 3: Burpees (Up Downs)
Goal for each set:
Kettlebell Swings: 18+ reps
Calories: 16/13+ Row or Ski / 12/10+ Assault / 10/8+ Echo
Burpees: 12+ reps
*Stimulus is moderate pacing across this entire workout. (Active Recovery Day)
*Aim for a rep range that is repeatable across the entire workout for each movement.
*KB Swings: Choose a weight you can move non-stop for 40 seconds
*Calories: Moderate pace 75%
*Burpees: Pacing should be consistent and nearly non-stop.
Optional Barbell Club
EMOM for 10 min
1 Squat Clean @ 75% 1RM
Cool Down / Mobility
1 min Calf Smash (each side)
1 min Foam roll Hamstrings
1 min Barbell quad smash (each side)
"Whether you think you can or you can't– you're right."
-Henry Ford