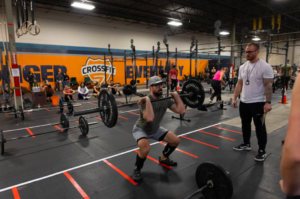 51 Kids Camp is Back!
Camp 1: May 30- June 2
Camp 2: June 26-29
Day camp from 9:30-11:30am// $100 per kid/ $75 for sibling
Email info@crossfit51.com to reserve your child's spot!
Friends & Enemies// April 3-5// Free 3 Day Trial to try out our CrossFit & Bootcamp classes!

Lift Off// Sat. April 29th// Test your 1RM Snatch & 1RM Clean & Jerk //  $25 per athlete// Registration link coming soon!
1st Phorm Friday// Place your orders at the front desk by Fridays at the box! // Click here to view 1st Phorm's full product line to help you reach your fitness goals!
Arbonne // Next 30 Day Challenge April 3rd // Gluten Free & 100% Vegan Supplements! // To check out the full line of products click here. Contact Michelle directly for more info!

Saturday Bootcamp// 8:00- 9:00am
Saturday Open Gym// 9:00- 11:00am

Workout of the Day
Team WOD
In a team of 2
AMRAP in 20 min
40 Toes to Bar (Knees-to-Elbows)
80 Thrusters @ 45#/ 35# Barbell*** (Light Dumbbells)
200 Double Unders (2 min of DU practice)
***Please do not drop your empty barbell! 10 burpee penalty for dropped barbells
Toes to bar: Aim for bigger sets here. Unbroken 20 reps for T2B ninjas.
Or sets of 15/5, 12/8, or 8/7/5 for those who need to manage grip fatigue.
Empty barbell thrusters: Goal is 15-20 reps at a time. Fire the hips as you stand out from the bottom to minimize the shoulders. Pause at the top for a quick second to control the pace and keep the heart rate relaxed (some what).
Double Unders: Aim for big sets of double unders. Keep the shoulders/traps relaxed. Focus on utilizing the wrist flick and slowing down your breathing.
Skills and Drills
(12 min)
Ring Muscle-up Progressions
4 stations/ 3rds
Min 1: 10 Box Dips
Min 2: Accumulate 20 second Ring Plank Hold
Min 3: Accumulate 30 seconds of a Hollow Hold on Floor
Min 4: Accumulate 40 second High Plank Hold. on Floor
*Post results to Beyond the Whiteboard
Cool Down / Mobility
1 min Calf Smash (each side)
1 min Foam roll Hamstrings
1 min Barbell quad smash (each side)
"Challenge yourself; it's the only path which leads to growth."
-Unknown