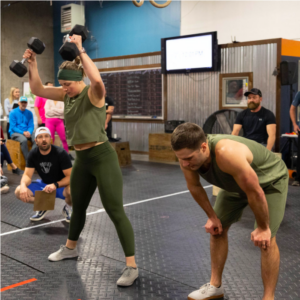 Photo by Colton Harris
Friends & Enemies// April 3-5// Free 3 Day Trial to try out our CrossFit & Bootcamp classes!

Lift Off// Sat. April 29th// Test your 1RM Snatch & 1RM Clean & Jerk //  $25 per athlete// Registration link coming soon!
1st Phorm Friday// Place your orders at the front desk by Fridays at the box! // Click here to view 1st Phorm's full product line to help you reach your fitness goals!
Arbonne // Next 30 Day Challenge March 20th // Gluten Free & 100% Vegan Supplements! // To check out the full line of products click here. Contact Michelle directly for more info!
Saturday Bootcamp// 8:00- 9:00am
Saturday Open Gym// 9:00- 11:00am
Workout of the Day
AMRAP in 16 min
30/24  Calories (Bike/ Row/ Ski)
20 Thrusters 45# /35# ***Do not drop your empty barbell
10 Strict Pull-ups (Kipping Pull-ups)
***10 Burpee Penalty for dropping an empty barbell
*Echo Bike 24/ 18 cals
*Target number of Rounds: 4+ rounds
*Stimulus is moderate intensity across rounds.
*Leg fatigue may be unexpected but will build across rounds due to the back to back leg movements.
*Calories: Goal should be to keep the calories under 2 minutes
*Thrusters: Focus should be on breathing out when coming out of each squat and also utilizing strong leg drive to send the bar overhead from the rack position rather than relying more on the arms.
*Pull-ups: You may choose between strict or regular pull-ups within the workout
Skills & Drills
5 sets
Ring Dip Hold (Top)
20- 30 seconds
—Rest 1 min between efforts—
Scaled
5 sets
 Top of Ring Dip Hold (Toes on the ground)
20-30 seconds
—Rest 1 min between efforts—
"If you change the way you look at things, the things you look at change."
-Wayne Dyer