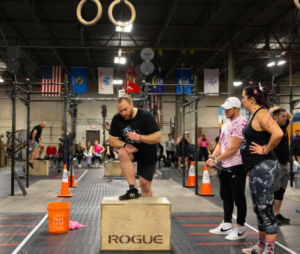 Photo by Colton Harris
Friends & Enemies// April 3-5// Free 3 Day Trial to try out our CrossFit & Bootcamp classes!

Lift Off// Sat. April 29th// Test your 1RM Snatch & 1RM Clean & Jerk //  $25 per athlete// Registration link coming soon!
1st Phorm Friday// Place your orders at the front desk by Fridays at the box! // Click here to view 1st Phorm's full product line to help you reach your fitness goals!
Arbonne // Next 30 Day Challenge March 20th // Gluten Free & 100% Vegan Supplements! // To check out the full line of products click here. Contact Michelle directly for more info!
Saturday Bootcamp// 8:00- 9:00am
Saturday Open Gym// 9:00- 11:00am

Barbell Club
EMOM in 10 min
5 Power Snatches
*Add 5+ total from March 2nd recorded on Beyond the Whiteboard
*Use lightweight that can be cycled smoothly for 5 Touch and Go reps
Workout of the Day
For time (18 min)
Run 1600 m  (1200 m)
80 Toes-to-bar (60 T2B or 80 Knees to Elbow or Hanging Knee Raises)
***You can partition this wod however you see fit!
Ex.
8 rds
200m Run
10 Toes to bar
or 
4 rds
400m run
20 Toes to bar
*Goal to finish: 13-15 minutes
*Stimulus is steady, strategic pacing so that you work run + toes to bar
equally, and avoid burnout on toes to bar.
*Transition times are relatively minimal on this workout between movements,
so you should choose the best strategy for your abilities that allows to keep
intensity on the run and toes to bar.
Cool Down / Mobility
1 min Calf Smash (each side)
1 min Foam roll Hamstrings (each side)
1 min Barbell quad smash (each side)
"Even if you're on the right track, you'll get run over if you just sit there."
-Will Rogers