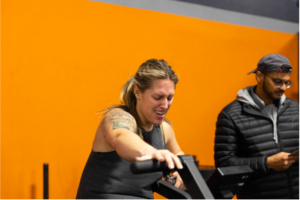 Photo by Colton Harris
Friends & Enemies// April 3-5// Free 3 Day Trial to try out our CrossFit & Bootcamp classes!

Lift Off// Sat. April 29th// Test your 1RM Snatch & 1RM Clean & Jerk //  $25 per athlete// Registration link coming soon!
1st Phorm Friday// Place your orders at the front desk by Fridays at the box! // Click here to view 1st Phorm's full product line to help you reach your fitness goals!
Arbonne // Next 30 Day Challenge March 20th // Gluten Free & 100% Vegan Supplements! // To check out the full line of products click here. Contact Michelle directly for more info!
Saturday Bootcamp// 8:00- 9:00am
Saturday Open Gym// 9:00- 11:00am
Strength
(12 min cap)
1RM Bench Press
*Rest 1 min between sets
*Try and reach a Heavy Single in 6-8 working sets (not including light warm-up sets).
*Make sure to have a spotter!!
*Go by feel and make smooth, calculated jumps in weight early on.
*Slow down the pace, and weight jumps when you reach heavier weights.
Workout of the Day
Team WOD
In a team of 3
20 min AMRAP
600m (Row or Ski)
30 Burpees over Bar (*1 Athlete at a time)
45 Wall balls @ 20#/ 14# to 11'/ 10′ Target (14#/ 10# to 10'/ 9′ Target)
The first round through is all about setting/testing the pace.
*Row: Pacing should be moderate (75%). Focus on getting your heart rate under control.
*Burpees over Bar: Add 2 Bumper Plates to your barbell for the burpees. Burpees can be lateral or bar facing.
*Wall balls: Focus on breathing with each rep (breathing out as you come out of the squat and in while you are at full extension) and cycling the arms so that premature arm fatigue is avoided.
Cool Down/ Mobility
1 min couch stretch (each side)
1 min pigeon pose (each side)
1 min quad smash (each side)
"Every workout is progress."
-Unknown