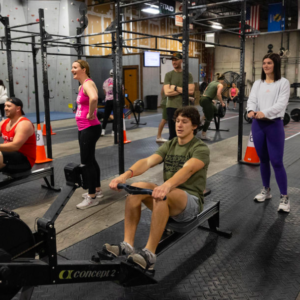 Photo by Colton Harris
Friends & Enemies// April 3-5// Free 3 Day Trial to try out our CrossFit & Bootcamp classes!

Save the Date// Lift Off  competition is back on Sat. April 29th// More Details to come!
1st Phorm Friday// Place your orders at the front desk by Fridays at the box! // Click here to view 1st Phorm's full product line to help you reach your fitness goals!
Arbonne // Next 30 Day Challenge March 20th // Gluten Free & 100% Vegan Supplements! // To check out the full line of products click here. Contact Michelle directly for more info!
Barbell Club// Sat. March 11 from 8:00am-9:00am// Come out & work on your cleans!

Strength
Every 2 min for 10 min
2 Bench Press @ 85%
*Calculate your % based of your heavy single, not your 1RM
*Use a moderate weight
Workout of the Day
Alternating EMOM for 20 min
Min 1-5-9-13-17:    50 Double Unders (35 Double Unders/ Practice DU for 30 seconds)
Min 2-6-10-14-18: 3 Squat Snatches @ 135#/ 95# (115#/ 80#)
Min 3-7-11-15-19:  8 Shuttle Runs @ 25 ft each (6 Shuttle Runs)
Min 4-8-12-16-20: 30 Abmat Sit-ups (20 Abmat Sit-ups)
*Goal is 30-45 seconds each minute
*Stimulus is moderate to moderate high intensity with the intention
to repeat that intensity as close as possible across each round.
*Squat Snatch: Weight needs to be moderate! Around 65% of max
and movable for high consistent sets.
*Reps should be completed in singles while aiming to complete 1 rep every 5-10 seconds.
*Shuttle Run: Athletes need to touch the "line" at the end of each 25ft distance
*Shuttle effort should be Med-High to High intensity throughout sets.

Cool Down / Mobility
1 min seal pose
1 min bicep stretch on wall (each side)
1 min tricep lacrosse ball smash (each side)
"Everything negative- pressure, challenges – is all an opportunity for me to rise."
-Kobe Bryant