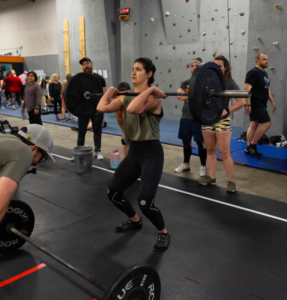 Photo by Colton Harris
Friends & Enemies// April 3-5// Free 3 Day Trial to try out our CrossFit & Bootcamp classes!

Save the Date// Lift Off  competition is back on Sat. April 29th// More Details to come!
1st Phorm Friday// Place your orders at the front desk by Fridays at the box! // Click here to view 1st Phorm's full product line to help you reach your fitness goals!
Arbonne // Next 30 Day Challenge March 20th // Gluten Free & 100% Vegan Supplements! // To check out the full line of products click here. Contact Michelle directly for more info!
Barbell Club// Sat. March 11 from 8:00am-9:00am// Come out & work on your cleans!
Workout of the Day
For Time
(25 min cap)
15 Rounds 
1 Rope Climb (2 Sit-to-Stand Rope Climbs)
2 Wall Walks
10/ 8 Calories (Bike/ Row/ Ski)
*Goal to finish is 17-19 min
*Goal pace should be 1 round every 75-90 seconds.
*Stimulus for today's workout is going to be a grind.
*Use the first 2 rounds to establish a pace and see if you can
stay consistent until the final "push" on the last round.
*Rope Climbs: Choose a variation that you can perform consistently. Clamp/ lock the feet,
stand, and then re-grip with the hands.
*Wall Walks: The goal should be to touch and go. Then, have a slight rest at the bottom of each rep going forward.
*Calories: Pacing should be around 75%.
Optional Accessory Work
"Mini Pump"
For Quality
4 rounds
20 Alternating Dumbbell Shoulder Press (pick load/ Each arm counts as 1 rep)
10 Bent Over Lateral Raises  (pick load)
10 Kettlebell Crush Grip Curls (pick load)
10 Tricep Dips
Rest 3 mins
Cool Down / Mobility
1 min lacrosse ball pec smash (each side)
1 min overhead elbow grab tricep stretch (each side)
1 min tricep lacrosse ball smash (each side)
"Don't let yesterday take up too much of today."
-Will Rogers